— eConference —
Call for Contributions
1-21 November 2001
Eduardo Kac's The Eighth Day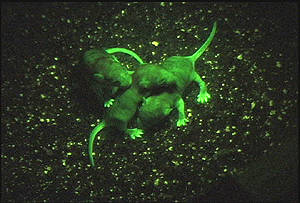 Is a live glowing green mouse a work of art? Can a robot with amoebae for brain cells be an interactive player in an ecosystem? As we learn to change our world using the tools of science and technology, how is the world in turn changing us?
These are just a few of the provocative questions that transgenic artist Eduardo Kac raises through his new work The Eighth Day. The piece places a 'biobot' with transgenic amoeba for a brain into an 'ecosystem' with transgenic mice, fish and plants that contain Green Fluorescent Protein which causes them to glow green under UV or blue light. Spectators can view the system through the four-foot diameter Plexiglass dome or through the biobot's 'eyes' and 'ears' over the Internet.
The Eighth Day is the focus of the first Crossings eConference, a virtual gathering of attention around a well-defined topic taking place over a three-week period. To participate, submit a short paper of 300 to 2,000 words relating to The Eighth Day by 21 November 2001. Whether your perspective is biological, ecological, philosophical, technological, postmodern or posthuman (or none or all of the above), we want to read what you think about this piece. We expect Kac's work will provoke responses as vivid, provocative and mindboggling as the exhibition itself.
The best entries will be selected for publication in Issue 1.3 of Crossings: Electronic Journal of Art and Technology.
Submit entries by 21 November 2001 to: crossings@tcd.ie